Bike required
These rides are wholly or mainly on unmade roads or marked tracks and are not suitable for road bikes. You will need a gravel bike, a hybrid, or a mountain bike (MTB).
G1. Mt Tarrengower Circuit
An easier ride of 15 km that circumnavigates Mt Tarrengower and offers panoramic views to the west. The ruins of the North British Mine are passed on the return into Maldon. See a description of the route, a PDF map and a digital map. An optional slightly longer route is also shown on the PDF map and there is a digital map. Thanks to Diane Daniell for the cartography.
G2. Maldon-Castlemaine Trail
This trail generally follows the route of the Maldon to Castlemaine railway line, and is sometimes incorrectly described as a 'rail trail'.
The ride follows the Maldon-Castlemaine railway line for most of the distance, and with suitable planning can be ridden one-way, with the return trip by vintage VGR steam train, or as a round trip. Each leg is almost 20 km. See a description of the route and a digital map.
A map of the trail, with some useful information, is also available.
An alternative route from Castlemaine to Maldon is also recommended. This route follows quiet paved roads through forest and grazing country from Castlemaine to Muckleford Station, where the trail beside the railway is followed. It offers a pleasant alternative return route to Maldon and has marginally less climbing (30 m) than experienced using the entire trail next to the railway line. There is a description and a digital map of this route.
G3. Rock of Ages and Darky's Hut
A short but hilly ride to two scenic lookout points on the Nuggetty Range close to Maldon.
There is a description of the route and a digital map.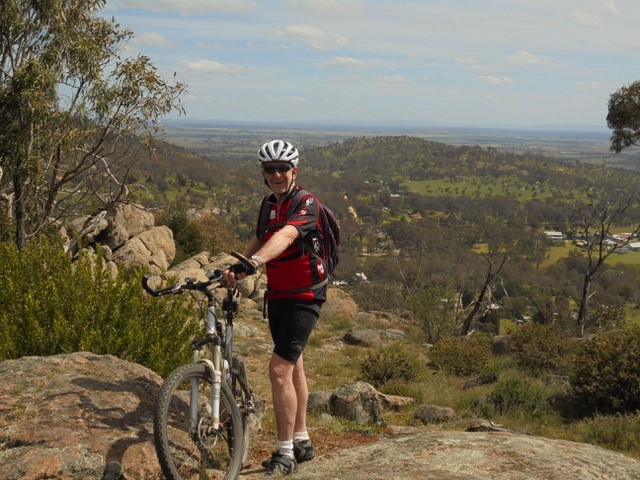 View from Rock of Ages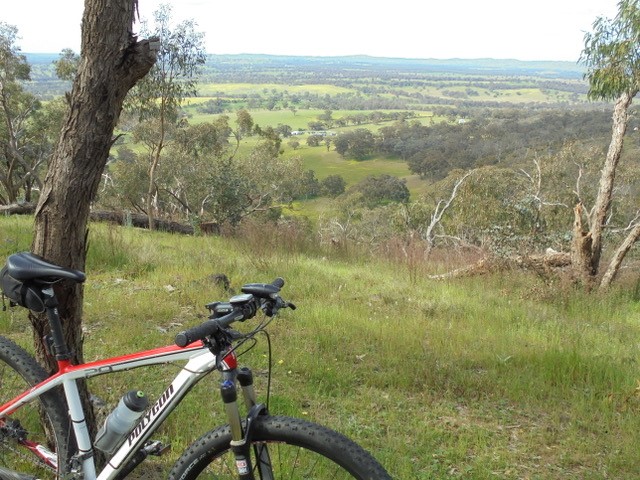 North from Darky's Hut
G4. Tunnel Track and Smiths Reef
A pleasant ride, mostly on gravel tracks, through the Muckleford Nature Conservation Reserve passing an old mining tunnel, Smiths Reef and the Maldon State Battery.
There is a description of the route and a digital map.